News
Volocopter, Fiumicino's first flight test: in 2024 Flying taxi service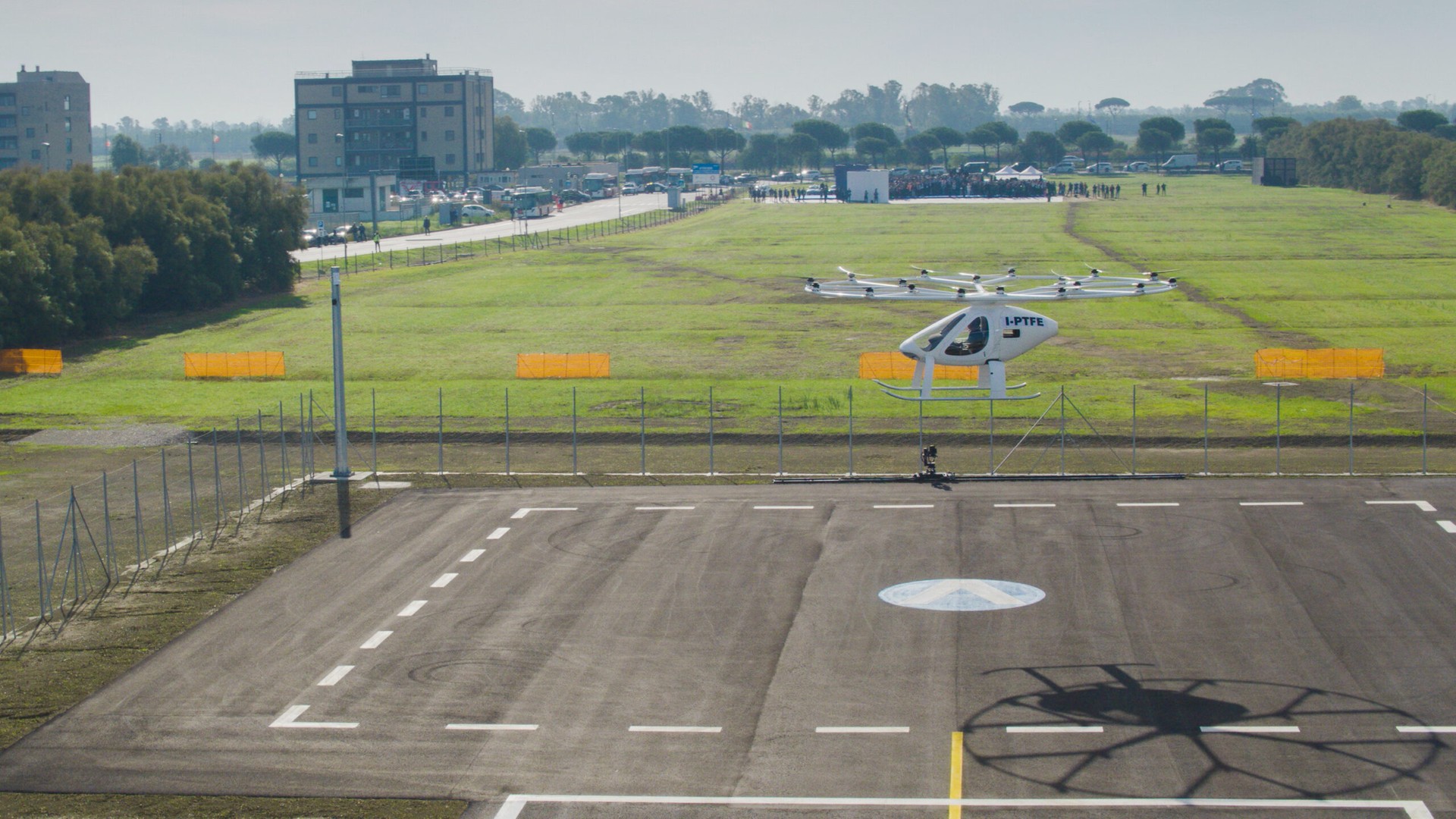 In theFiumicino Airport It was successfully performed in The first flight of a manned eVTOL aircraft developed by Volocopter. This demo was made in collaboration with Aeroporti di Roma, UrbanV and Atlantia, and the occasion was also To "launch" the first Italian port. We note that the vertical port is not the small airports designated for these electric vertical take-off and landing aircraft.
Flying taxi service from Rome to Fiumicino
Since the first eVTOL prototype developed by Volocopter was presented in Italy a year ago, significant progress has been made from the point of view of aviation technologies, port design and systems necessary to allow the birth of flying taxi services. Remember that the goal is to realize that Passenger service between Rome and Fiumicino Airport Using eVTOLs by 2024.
The Volocopter eVTOL aircraft flew at a speed of 40 km / h for 5 minutes at an altitude of 40 meters, crossing the "8" route, after obtaining all the necessary permits from the relevant Italian authorities, namely ENAC and ENAV. We remember that both bodies are working on preparing all the rules necessary for the birth of these services.
During the demonstration, he VoloIQ digital platformDeveloped by Volocopter. This platform will be very important for flying taxi services in the future because it supports digital access to all business processes: from flight operations to booking flights.
The aircraft that Volocopter used for this test at Fiumicino is the two-seat Volocopter 2X that has a top speed of just over 100 km/h and offers a range of about 35 km. Therefore, the aircraft is designed for short-term travel in large cities where traffic is congested.
Vertiport
The spine is developed according to EASA technical specifications. This chassis is designed to host various types of tests for both flight and ground operations such as battery recharging, and is also designed to allow experimentation of different charging technologies for eVTOL devices including battery exchange.
The infrastructure, occupying an area of ​​approximately 5,500 square metres, is designed to ensure compatibility with the major eVTOLs to be adopted in the coming years and consists of a terminal approach and take-off area for landing operations. -off, Lay-by, a Covered barn measuring 20 x 20 meters and about 6 meters high and various premises, including an office, a storeroom, and an area for recharging the batteries.
was the width of the spine Organized by UrbanVa company founded by ADR, together with Aeroports de la Cote d'Azur, Venice Airport (SAVE) and Bologna's Guglielmo Marconi Airport, to design and build vertical ports internationally.
Therefore, with this demonstration and the presentation of its first vertical port, Italy is taking an important step forward in the advanced air mobility sector that has recently proven increasingly dynamic with many companies investing in it, including some car manufacturers.