News
Twitter, the blue tick in the subscription is spreading to fake accounts. blue stuck

In the collective imagination, see "blue tick" Next to the name of a social profile, whatever it is, it always corresponds to the certainty that there is at least an effective verification of the identity of the person who owns it. As for Twitter, the only sure thing we have is that this profile paid $8 for the blue badge since its new owner Elon Musk decided that anyone could buy it with a Twitter Blue subscription, Currently only on iOSwithout any kind of verification.
As can easily be imagined, this decision has already started to cause a great deal of confusion on Twitter and there are already many fake accounts taking advantage of the situation to post posts that appear to be from official profiles. Currently it is Practically impossible to distinguish visually If the tweet was created from an account with a blue check obtained after verification or thanks to a Twitter Blue subscription. The only possibility for a user is to click on the tweet, then on the username to go to their profile and then click on the name again to see why they get the blue check. Certainly exhausting.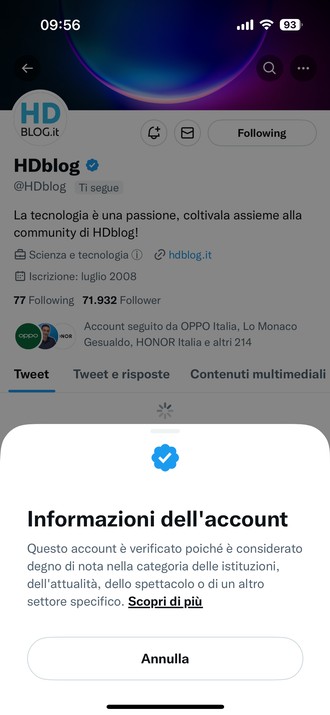 So, at the moment, For a modest amount of $8, anyone can impersonate someone else and access to their published contents without any immediate control. In these hours, we've seen fake tweets from LeBon James, Nintendo America, Valve, and even Donald Trump, Rudy Giuliani, and Jesus Christ. All of these accounts were later suspended but not before they received thousands of views.
Twitter has stated that it is acting "aggressively" against these fake profiles, but it certainly won't be easy to keep the situation under control as several staff cuts have also affected these verification areas. Even if users had the power to control the nature of the tag, it is clear that this situation would only lead to the spread of fake news.
Another certainty is that there is definitely an inevitable chaos currently reigning in Twitter due to these very strange choices, and certainly very hasty by Elon Musk. You can navigate the horizon, that's also revealed by Esther Crawford, one of the company's directors who got away with the axe of 50% of Musk's layoffs, who also confirmed that there would be no "second badge" that would have marked official accounts.
Update: $8 subscription temporarily closed
1:00 pm
inscriptions Twitter Blue Banned: The decision was taken by the company after the confusion caused by the spread of fake accounts in the last hours.