News
Kobo Clara 2E Review: Functional, Complete, and Eco
They say reading a good book in paper form is invaluable, and browsing through the pages you can smell is the way to go. more intimate For a complete and immersive experience. It's all true, but it's equally true One thing does not exclude the otherrelying on a eBook Reader It can be seen as A replacement that matches – and does not replace – the paper backing. In short, another chance to read and not less.
Kubo Clara 2E It is the newest addition to Rakuten and I have had the opportunity to use it for a few weeks I can say without a doubt that it does its job very well. The reasons are basically three: it is very lightAnd the It reads perfectly Without getting tired of the eye and progress All jobs which are used for comfortable reading and listening. Yes, because with Clara 2E You can also listen to audiobooks.
Take Kobo Clara HD and refine it: This is, in essence, Clara 2e. Not a revolution – and it does not intend to be – nor a real new generation compared to the previous model, but a copy Brings many improvements And this in his name hides his greatest peculiarities:And therepresent sound echoWhy No e-book reader has been created with such a deep concern for the environment.
A sustainable environmental choice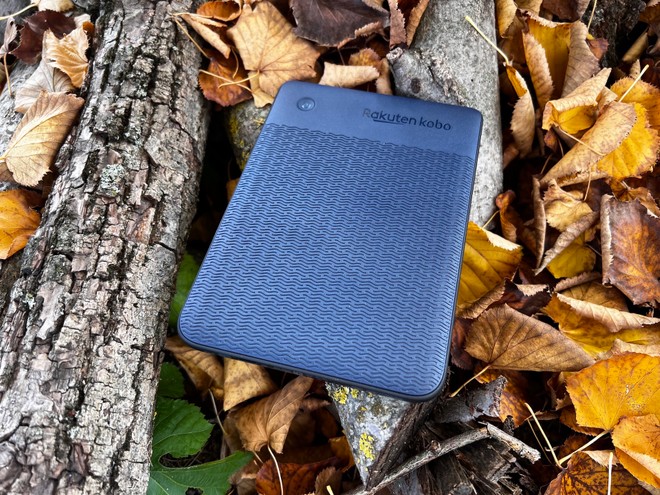 outer shell in 85% recycled plastic10% of this is made up of discarded plastic waste Possibly destined for the oceans. Material recycled rhymes with poor? Absolutely not, because The Clara 2E touch is solid and well built. The life of this plastic over time may still be tested. Sustainability that goes beyond the object itself, and extends to
sales packagingcompletely magnet-free and made from FSC certified recycled paper and printed with soy ink

Sleep Cover (Sold separately, colors are teal, coral red and black)

97% recycled plastic back

Inner lining of 40% fibers made from recycled plastic packaging

Kobo . Basic Sleeping Cover (sold separately, ocean blue)

recycled polyester

Interior lining of 40% fiber from recycled plastic bottles
data sheet
Show: 6-inch touchscreen e-ink 1448 x 1080 pixels, 300dpi, dark mode, ComfortLight PRO with adjustable brightness and color temperature

CPU: 1 GHz

RAM: 512 MB

Internal memory: 16 GB

Connection: Dual Band 802.11n WiFi, Bluetooth, USB-C

impermeability: IPX8 (up to 60 minutes in 2 meters of water)

Customization: TypeGenius with 12 characters and over 50 sizes

Formats: 15: EPUB, EPUB3, FlePub, PDF, MOBI, JPEG, GIF, PNG, BMP, TIFF, TXT, HTML, RTF, CBZ, CBR

Audio books: Yes, with wireless Bluetooth headphones or speakers

the battery: 1500 mA"weeks of autonomy"

Dimensions and weight: 112.05×159.02×8.66mm for 171g

language: Italian included

Colors:

Clara 2E: Deep Ocean Blue

SleepCover: Black, Coral Orange, Green Sea Glass

SleepCover Base: Deep Ocean Blue
two generations compared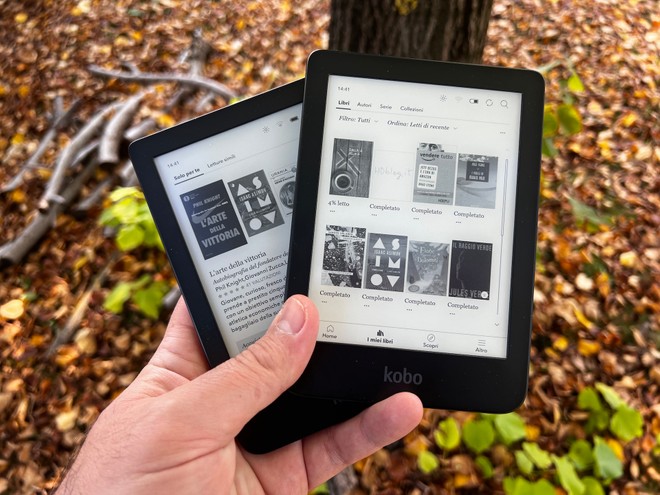 Compared to the predecessor The design does not change. Or rather, it changes a little. Dimensions and weight grow a little – by 5 grams, from 166 to 171 – and aesthetically everything remains unchanged. Before we talk about the revisions, and in fact the transition from microUSB to USB-C The displacement (welcome) of On/Off button From the lower frame to the back of the body it can be defined as such. With the power button in a more discreet position (the SleepCover has a corresponding slot) there is no longer a risk of involuntary touches.
The Kobo Clara 2E holds very well in the hand, which is made possible thanks to its compact size but also by Good grip ensured by special back fabric Which replaces the slippery spots of the previous version. else, Tires are now less squared This helps keep the device stable while reading.
welcome news
Clara 2E is waterproof to the water IPX8: This means it can remain submerged in two meters of fresh water for up to an hour, or even more realistically, we can take our e-book reader by the pool or inside the tub without worry. It's the first 6-inch Kobo to be waterproof, along with Scale 2 (7 inches) and Sig (8 inches). Built into a recycled, liquid-resistant body, we find a 6-inch touch screen E-ink Carta 1200 Anti-glare with 1448×1072 resolution and 300ppi, function Comfort Lite forefront (natural light) u.
In short, the screen has all the necessary features to give us an enjoyable and comfortable reading, whether in direct sunlight or in the evening, when our eyesight needs more attention. With Natural Light, in fact, you can set the brightness and temperature manually or, alternatively, you can let the Kobo Clara 2E do everything using the automatic setting: the closer it gets to the evening, The higher the temperature in warm tones, the more amber the colors will be. There is also the possibility to decide when you go to rest: from that moment on, the e-book reader will make the screen light more amber.
Compared to Clara HD There is a new dark mode: set once to on me, the text becomes white on a black background. ComfortLight PRO and Dark Mode among other things can be set at the same time.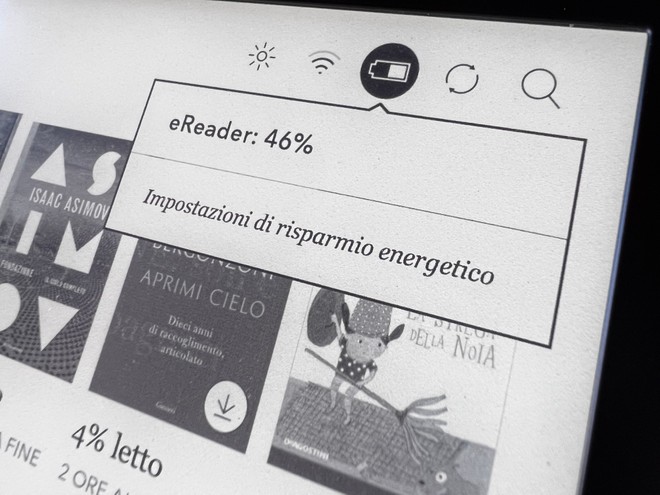 battery from 1500 mA As Rakuten says, it offers "weeks of autonomyObviously it depends on the use of the e-reader, but one thing is for sure: there is no concern about recharging. Under the body there is space for the 1 GHz processor which, we assume, remains the same as seen on the Clara HD. Good side 16 GB of storageWeakness of the previous generation: this is This is mainly due to the new audiobooks Which, as you can easily guess, requires more space to be saved than popular e-books (you can save 12,000 e-books or 75 audiobooks).
Speaking of audiobooks, Compatible are only CobosYou can find it in the Official Store for individual purchase or, alternatively, under the subscription packages of Kobo Plus eBook & Audio and Kobo Plus Audio:
Kobo Plus e-book and audio: E-books and audiobooks included, for reading on any Kobo reader | 12.99 € / month

Kobo Plus Audio: All audiobooks included, download and listen from the app | 9.99€/month
This formula is also added Kobo Plus E-Book Which includes e-books and the ability to read on any Kobo device. The monthly cost is 9.99 euros. A free 30-day trial is available for all three types of subscription (for new subscribers only).
Kobo audiobooks can be listened to Via bluetooth via headphones Or, alternatively, also from one external speaker. Pairing is very simple and instant, listening mode provides the ability to set the speed and move forward or backward for 30 seconds.
daily experience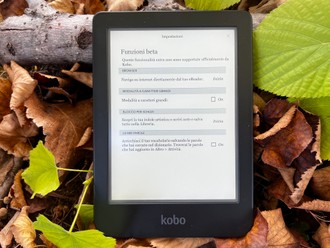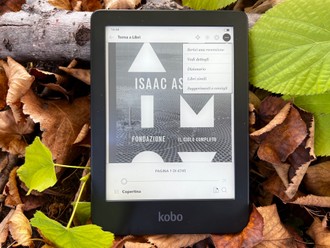 The user experience is satisfactory, perhaps the reader is not as flexible as other models of the same brand – Sage, for example, but in this case we are talking about a device with a quad-core processor – but this does not affect the pleasure of reading. In fact, high screen customization allows you to Calibrate the parameters according to the needs of the momentThis makes a huge difference, especially when you find yourself reading in the dark of your room. Then I found a file LED hidden under the body Indicating the operation of the e-reader and the charging phase. A non-essential plus, but integrated in a completely discreet way – I challenge anyone to recognize it when it's turned off – can only be accepted so well.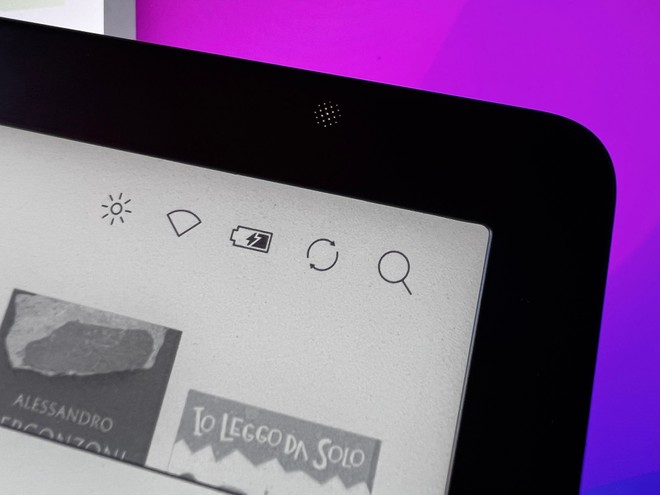 The interface of the Kobo Clara 2E is the classic interfaceAt the bottom of the screen are the icons for Home, My Books, Discover and More, and at the top, Time, Brightness, WiFi, Battery, Sync, and Search Lens. Each of them allows you to access parameters that will be set according to your tastes or needs. The function that allows you is very useful Sort your books by title, author, series and other parametersas well as the sound groups Groups that can be created in order to better organize and display in which it can be set Menu or Cover Mode.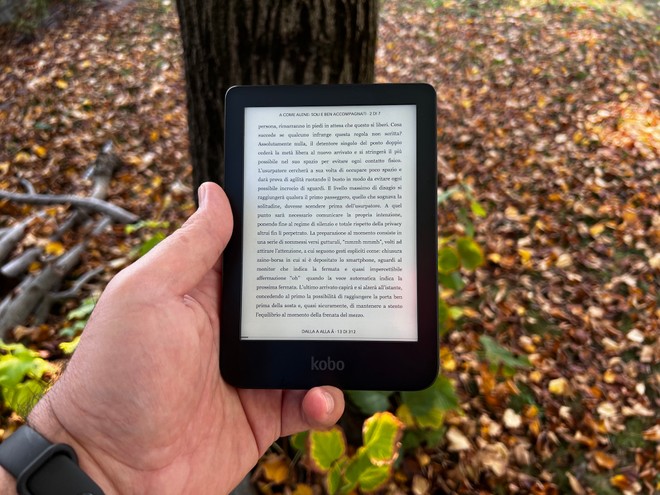 When you read a book, the page number, chapter title (with index access), any annotations, and a search function appear at the bottom. At the top are the tools for brightness, font, statistics, settings (viewing reading progress, page appearance, commands to turn the page and adjust brightness by sliding your finger on the left edge), three horizontal dots where you can access the dictionary, suggestions for similar titles (new) and other functions. With a swipe from top to bottom, however, the file The last three e-books have been opened. Appreciated novelty, I appreciate the possibility Pinch with two fingers on the screen Enlarge or reduce the text without necessarily going to the settings menu (which function can be activated or not). Always provide then highlight text and dictionaryVery well implemented and easy to use tools.
under the title else You can access your wishlist, your Pocket-managed items, activities, experimental functions (including the browser and drawing board – which I frankly find useless due to incompatibility with Kobo Stylus), settings and font help.
Conclusions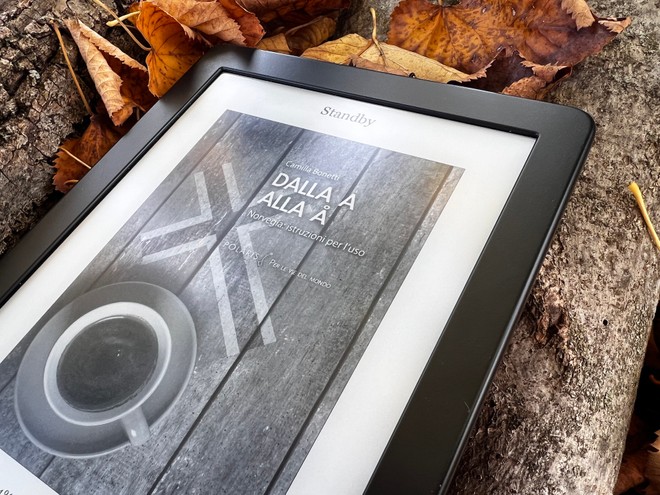 Kobo Clara 2E is an e-reader Complete and easy to use. It wouldn't be a monster of speed, but it's still an excellent choice due to the many features and customization tools it offers. Now there is also the option to listen to audiobooks – only Kobo, although it must be said that the prices are still quite steep.
In short, a really light and integrated product with an excellent quality screen. Add to this IPX8 waterproofing, weeks of autonomy and overall improved navigation on the software side, all for a price 149 €. alternatives? The closest in terms of usability is the new ad-free Kindle which, however, is not waterproof and is offered at a maximum price of €109.99 (in the ad-free version). In some ways more similar is Paper White (Here in comparison to the Kindle 2022), like the Clara 2E in recycled plastic and able to adjust the hue of the screen. The price in this case is €139.99 for the 8GB version with ads and up to €189.99 for the Signature version (without ads).
Pros and Cons