News
FPT Industrial opens new 'carbon-neutral' ePowertrain plant in Turin
in Turin, Industrial FPT (IVECO Group) opened The new ePowertrain factory It will produce electric axles, integrated hub motors (central motor) and battery packs for light commercial vehicles, minibuses and buses. But the most interesting thing is the existence of this factory Previously "completely carbon-neutral" by the IVECO Group. In fact, it has been reported that it is able to achieve this goal by offsetting carbon dioxide emissions by purchasing energy from renewable sources and carbon credits.
Other than that, the enterprise It generates energy thanks to solar panels They are applied to the facade and to innovative technologies such as the "small wind tower" and the "smart flower". Moreover, at this production site we find the Iveco Group Sustainability Garden, a 6000 m² indoor area planted with 100 drought-resistant native plants with excellent carbon dioxide absorption capacity.
In addition, a walkable path with recycled pallets was created. The opening was an important new step in IVECO لمجموعة Series Decarbonization Path Its strategy aims to achieve net zero carbon dioxide emissions for its products and all of its industrial activities.
technology and sustainability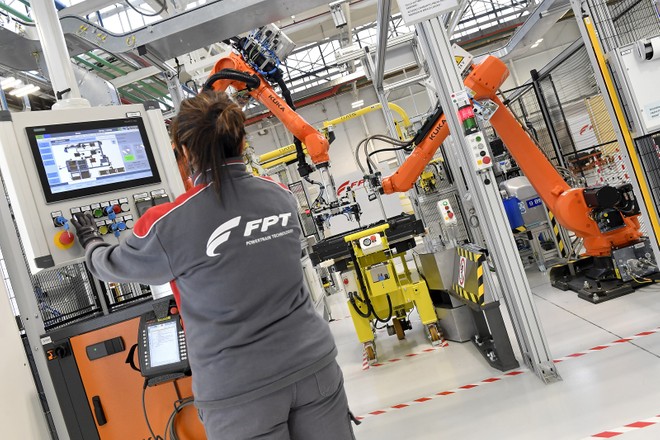 The new ePowertrain plant occupies a total area of ​​15,000 square meters and has three dedicated parallel production lines respectively for battery pack assembly and the production of Central Drive and electric axles for heavy commercial vehicles.
Once powered on, it will be able to produce annually More than 20,000 electric hubs and 20,000 battery packs. This factory will also benefit the local economy as it will employ about 200 people. The latest and most advanced technology will be used within the production site. For example, all production processes rely on highly automated warehouses to manage components.
In addition, the latest generation technology is adopted It also includes augmented and virtual realitywhich reduces production line design time through run-out simulation prior to physical installation, 3D printing, "smart monitoring" systems based on smart sensors, 3D scanners for metrological quality measurements, 3D reality simulators and collaborative robotics.
Cloud quality controls allow you to identify issues instantly, while end-of-line controls certify product compliance in terms of configuration, performance, and safety. On the line of electric axles for heavy commercial vehicles, the optical signal station supports the operator by clearly indicating which component to select and where to install it, which helps to achieve the goal of zero-error removal. In the battery assembly line, insulating mats protect operators from potential electrical leakage, while thermal imaging cameras automatically measure the temperature of the batteries, immediately reporting any deviations from the norm.