News
Climate change: Europe is warming very quickly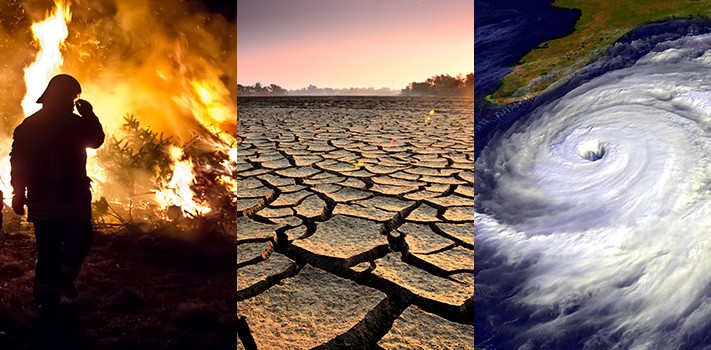 Climate change, which is happening under everyone's eyes, is causing concern around the world and more and more people are realizing the need to make their contribution in order to mitigate this drift as much as possible. The planet is warming, Antarctica is collapsing and according to the rejectionNew report from the World Meteorological Organization (WMO)it seems that the continent most affected by this phenomenon is ours.
Europe is warming faster than any other continent in the world. This is the most troubling fact that brings us back to Earth, where temperatures in Europe have increased by more than twice the average global temperature since 1991. It is this trend that is believed to have given rise to many of the extreme climate changes we are witnessing, which have led as an impact Side by side to devastating floods, fires, and weeks of uncontrollable scorching heat.
The report on the state of the climate in Europe, produced in cooperation with the Copernicus Service on Climate Change in the European Union, stops for the time being in 2021 and presents "Information on rising temperatures, heat waves at sea and land, extreme weather conditions, changes in precipitation patterns, and retreat of ice and snow.. It basically defines a general and complex picture, which we will all have to deal with in some way.
And so we find out Temperatures in Europe rose dramatically between 1991 and 2021, at an average rate of about +0.5 °C per decade. The consequences in many cases are there for all to see, and for reference, it is enough to know that the Alpine glaciers lost 30 meters of ice thickness from 1997 to 2021. This phenomenon is supported by the melting of the Greenland ice sheet, which contributes to the acceleration of the rise in sea and ocean levels. Here, too, there is no shortage of field examples, such as what happened in the summer of 2021 at Summit Station, in Greenland, where it rained for the first time since we were monitoring the situation.
Summit Station sits on top of the Greenland ice sheet and is the only observation station so high-altitude that it's always been in the middle of the ice, or at least it was until last year. These are the uncomfortable words of Petteri Taalas, Secretary-General of WMO.
"Europe presents a vivid picture of a warming world and reminds us that even well-prepared societies are not immune from the effects of extreme weather events. This year, as in 2021, large parts of Europe were subjected to widespread heat waves and droughts, leading to fires. In 2021, extraordinary floods cause death and destruction"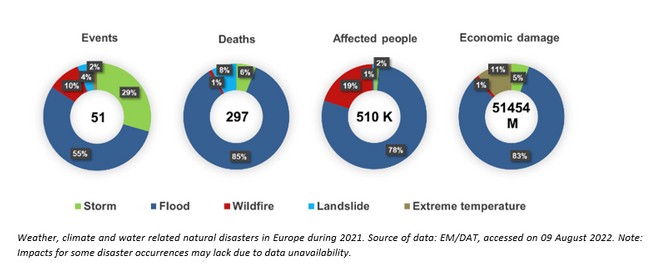 The Earth has a fever but change is coming faster in some parts of the world. Since the mid-19th century, when economies began polluting the atmosphere by burning large amounts of fossil fuels, average global temperatures have risen by 1.2°C. However, Europe scores on average about two degrees higher than in the pre-industrial era.
Record heat waves, such as the one that hit the UK last July, go hand in hand with a rise in deaths among the most vulnerable, namely the elderly. The number of excess deaths in England during this summer's heatwaves reached 2,803 among people aged 65 and over, and as many will remember Temperatures rose above 40 degrees Celsius for the first time in UK history.
Climate change has also increased flood risk in Western Europe, and without triggering specific events, rain events in the hardest-hit regions were 19% higher than they would have been without the effects of the change, according to the research. Climatic conditions caused by human activities.
The bad news is that no improvement has been seen and Europe is on track to continue warming at a faster rate than the rest of the planet. Something has been tried, and between 1990 and 2020, the European Union managed to reduce its greenhouse gas emissions by 31%, but it seems that this step is very little compared to the negative development we are seeing, and it is clear that the interventions that need to be implemented. To be much deeper and more rooted if we are to prevent much worse climate change.