News
Asus introduces new Intel Z790 ROG motherboards, TUF Gaming and ProArt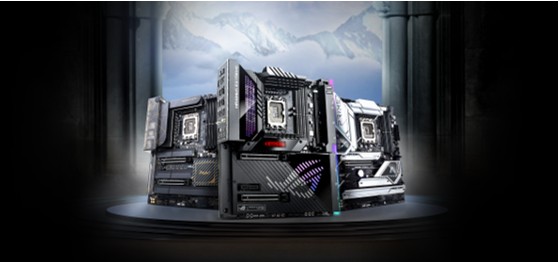 After the last cards of the B650 line we told you about a few days ago, Asus has announced the availability of new Intel Z790 motherboards, or ROG Maximus Z790 Apex Motherboard, TUF Gaming Z790-PLUS WiFi, ProArt Z790-Creator WiFiAll feature support for DDR5 memory modules and PCIe 5.0 slots for the latest video cards and ultra-fast storage solutions.
ASUS Z790 motherboards offer tremendous value for anyone wanting to build a PC based on a 13th Gen Intel CPU, value that includes AEMP II, AI Overclocking, AI Cooling II, PCIe 5.0 M.2, and Thunderbolt 4 , WiFi 6E, Quick Charge 4+ technology and full connectivity. Let's see them individually, and then at the end we will talk about prices, prices and availability in the markets.
ROG MAXIMUS Z90 APEX Motherboard
The ROG Maximus Z790 motherboard in the Apex series continues to prove to be one of the The best solutions for overclockingTwo DDR5 DIMM slots are ready to overclock the RAM up to 8000Mbps. To offer all the tools you really need to test and monitor memory, ASUS also includes a one-year subscription to AIDA64 Extreme and Memtest86. ROG Maximus Z790 Apex motherboard is already proving its worth in the field, having already achieved ito 14 world records and 13 world first places. Overclocker Elmore ROG used the new Apex to push the Intel CPU to 8,812.85MHz, breaking the previous record held with an AMD CPU that had been held since 2012. With an Intel Core i9-13900K CPU, lupine_no_musume I managed to reach a new record for overclocking DDR5 memory, up to an extraordinary value of 5564.8MHz, which translates to 11,130 million megabytes/sec.
This is about 2.3 times faster than the base speeds of the JEDEC DDR5 RAM used. Instead, Safedisk set new records in both the Cinebench R23 and SuperPi 32M, clocking 56,722 points, 3 minutes and 4.054 seconds, respectively. Game creators and PC builders may not buy nitrogen cylinders to reach these limits, but choosing Apex will ensure the legendary and proven overclocking performance of Apex, ensuring the ability to use high-end CPU and memory combinations at the highest speeds.And stable.
This motherboard's powerful power solution provides an advanced platform for truly exceptional performance. Raw power enters the board through the 8 + 8 ProCool II power connectors. The rigid pins of these connectors provide better connection to power supply sockets, better heat dissipation, and greater reliability than common devices. 105A 24+0 power stages provide constant power to the CPU, while massive VRM heatsinks keep circuits cool even under stress.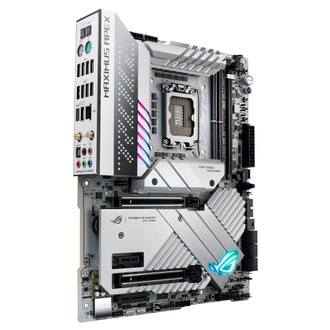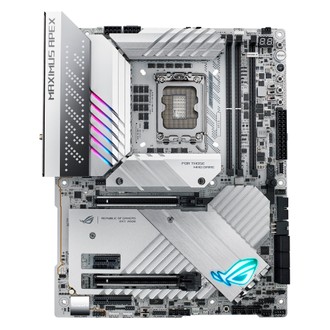 For those who want to choose a liquid cooling circuit, the ROG Water Cooling Zone gives you complete control. ROG Water Cooling Zone's dual flow and temperature heads deliver information directly to the intuitive ROG Fan Xpert 4 utility, helping to keep heat in check and ensure maximum cooling efficiency in every challenge. ASUS' unique smart controls allow users to easily enhance their experience. AI Overclocking optimizes the CPU for top-notch performance with just a few clicks. It uses onboard microcontrollers to accurately track temperature and frequency measurement, then process the data through an advanced algorithm to deliver the best system overclocking.
AI Cooling II It monitors the CPU and uses data from a dedicated stress test to calculate the minimum fan speed required to effectively cool the system, helping to keep noise levels very low. For those looking for a platform that allows them to integrate the fastest components of today and tomorrow, the ROG Maximus Z790 Apex motherboard offers 1 pair of PCIe 5.0 x16 . slots Ready for next-generation graphics cards. The PCIe slot's Q-Release button allows you to easily release the graphics card from the slot. Thanks to the included PCIe 5.0 M.2 card, you can install a high-speed PCIe 5.0 SSD. Users will also be available 2 PCIe 4.0 M.2 . slotsBoth feature dual M.2 heatsinks with integrated back panel, and the ability to install two additional M.2 SSDs via the additional DIMM.2 card.
To make assembly or upgrade even easier, ASUS M.2 Q-Latch allows users to install drives quickly and easily, without having to worry about losing tiny M.2 screws. High-level connectivity complements the features of the ROG Maximus Z790 Apex motherboard. Intel 2.5 Giga Ethernet E Wi-Fi 6E Complete equipment, while offering the best network options, for ultra-fast wired and wireless networks. On the rear I/O panel is the ultra-fast USB 3.2 Gen 2×2 Type-C port, as well as a header that allows you to connect another Type-C port with Quick Charge 4+ support to charge up to 60W directly from the front panel of the case.
TUF GAMING Z790-PLUS WIFI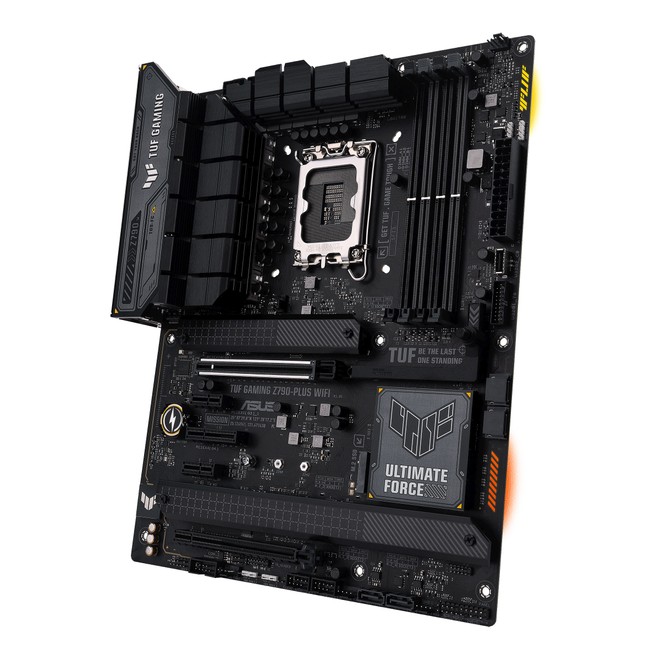 The new TUF Gaming model offers powerful gaming features, battle-worthy reliability and discreet aesthetics, and is well suited to a wide range of models. Now, with the introduction of the TUF Gaming Z790-Plus WIFI, the selection of ASUS Z790 motherboards is expanding by offering Support for DDR5 memory modules. This board is ready to accommodate the latest 13th generation Intel Core processors with an updated power solution. proud 8 + 8 ProCool II power connectors and 16 + 1 DrMOS power supply phasescompared to the 14+1 of the TUF Gaming Z690 series, thus increasing the VRM's ability to deliver stable power and ensure efficient cooling even under stress.
For 60W charging, a 6-pin PCIe power cable must be connected to the motherboard. The TUF Gaming Z790-Plus WIFI is also equipped with a PCIe Q-Release button slot that makes it easy to remove the graphics card, and a high-end type option paired with a massive cooling solution and robust backplate. AEMP II makes it easy to optimize DDR5 modules for exceptional performance – just a few clicks into the BIOS to activate the required memory profile, and users can count on consistent RAM speeds up to 37.5% faster than the base DDR5 specification.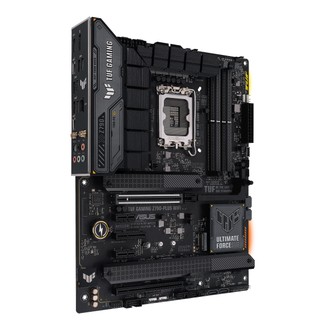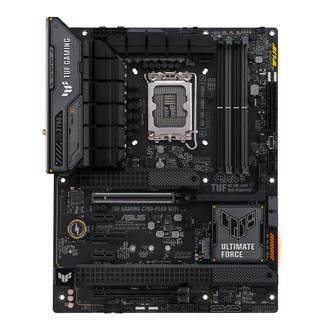 The PCIe 5.0 x16 slot allows users to use the fastest graphics cards of today and tomorrow. Four built-in M.2 slots, three for PCIe 4.0, ensure ample and fast storage space. Networking is ensured by an Intel 2.5Gbps Ethernet controller, while Intel WiFi 6E integration allows users to connect to a compatible router on the 6GHz band. A number of USB ports, including Fast USB 3.2 Gen 2 x 2 Type-C port on the rear I/O panelallows users to connect all their favorite gaming accessories.
For those who want to enrich their TUF Gaming motherboard with a series of components and peripherals with a common and cohesive aesthetic, the TUF Gaming Alliance—a collaboration between ASUS and various PC component brands, created to ensure compatibility and interoperability among a wide range of components— It offers many options for cases, power supplies, CPU coolers, memory kits, and more.
With the constant addition of new partnerships, and the subsequent expansion of the portfolio of products and components, the TUF Gaming Alliance will continue to grow over time, offering more and more choices for the right choice.
WiFi PRO-ART Z790-CREATOR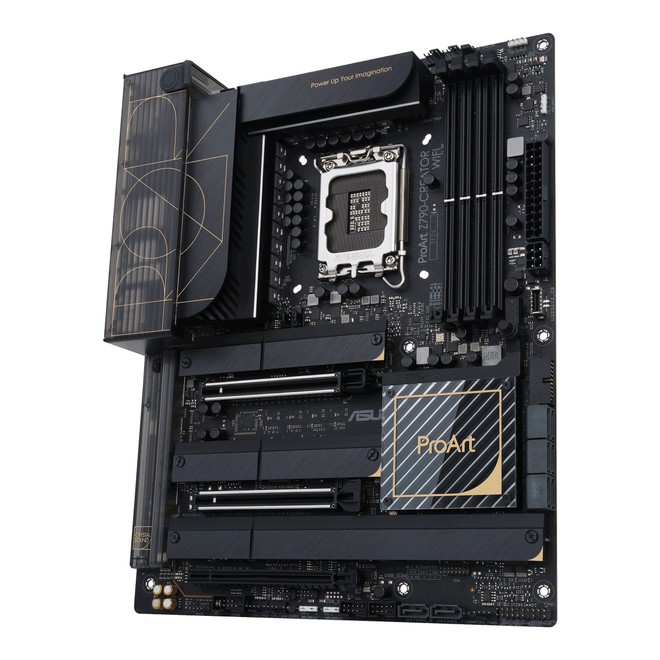 Let's go ahead to Excellence solution for creators. Those who design a content creation-oriented workstation ready to harness the full power of a 13th generation Intel CPU, don't have to wait or look for more: for them The ProArt Z790-Creator WiFi Printer is simply the perfect choice. With a sophisticated style rooted in crisp lines, graceful angles, subtle symmetry and a rich array of cutting-edge features, this is the motherboard every innovator has been waiting for.
For all creative workflows that demand high-end memory clusters, ProArt Z790-Creator WiFi accelerates projects with the massive bandwidth, blazing speeds, and exceptional power efficiency of next-generation DDR5 RAM. With data transfer rates up to 50% faster than previous generation DDR4 memory, DDR5 brings a new level of performance to life, and this motherboard offers a suite of hardware and firmware improvements that allow users to overclock compatible memory sets by pushing them to their absolute limits. With PCIe 5.0 connectivity with dual PCIe 5.0 x16 slots, ProArt Z790-Creator WIFI gives users the ability to take full advantage of even the fastest next-generation graphics cards, for officially unlimited processing capacity.
The two slots can be operated in an x8 / x8 configuration, so users can take full advantage of using a pair of video cards. Finally, four built-in M.2 slots allow you to create a large, ultra-fast storage pool. There is clearly a whole host of high-speed ports out there, aimed at creating complete creative workstations from every aspect.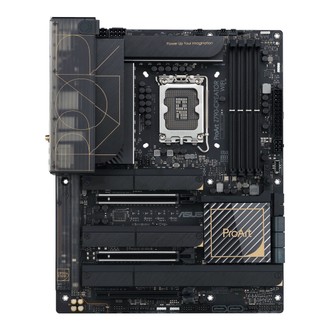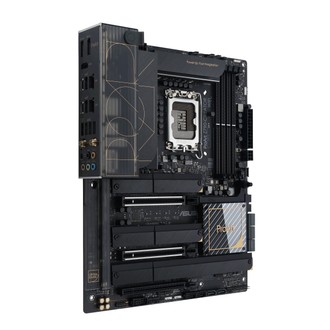 A versatile pair of Thunderbolt 4 USB Type-C ports on the rear panel provides multiple options for connecting peripherals and displays. Flexible front-panel connectivity is essential to many workflows, so ProArt Z790- Creator WiFi offers a front-panel USB 3.2 Gen 2 x 2 connector with Quick Charge 4+ support up to 60W, providing a convenient option for fast charging every compatible device cased Equipped with a USB Type C port on the front panel.
The high-level network division is complemented by very rich equipment to ensure high performance and productivity on all fronts. With a compatible router, this card's WiFi 6E connection gives you access to the 6GHz spectrum for truly unimpeded wireless connections. Intel 2.5Gbps Ethernet provides solid, reliable wired networking, while the Marvell AQtion 10Gbps Ethernet port offers more options, such as connecting to lightning-fast network storage. For images and more details on the specs of the new ROG Maximus Z790 Apex, TUF Gaming Z790-Plus WIFI, and ProArt Z790-Creator WIFI, please see our Edge Up article.
The full range of ASUS Z790 motherboards can be found in the Edge Up Help, or visit the ASUS Z790 landing page which includes introductory videos for each series.
Availability and pricing
ROG Maximus Z790 Apex, ProArt Z790 Creator WIFI, and TUF Gaming Z790-Plus WIFI join the Z790 series models and will be available Coming soon on ASUS eShopin ASUS Gold Stores, distributors participating in the ASUS Supported Program by ASUS and major ASUS business partners. At the moment we do not have information on possible prices But in the next few days we should know more.
The new ASUS Z790 range also offers an added bonus for all buyers: the choice of a new ROG, ROG Strix or TUF Gaming motherboard along with an AIO cooler or ASUS power supply You can get up to 150 euros in compensation. To consult all available options and participating retailers and obtain more information about the promotion, the dedicated page is available (at SOURCE).