News
Asus Introduces New B650 Motherboards for AMD AM5 | Prices and availability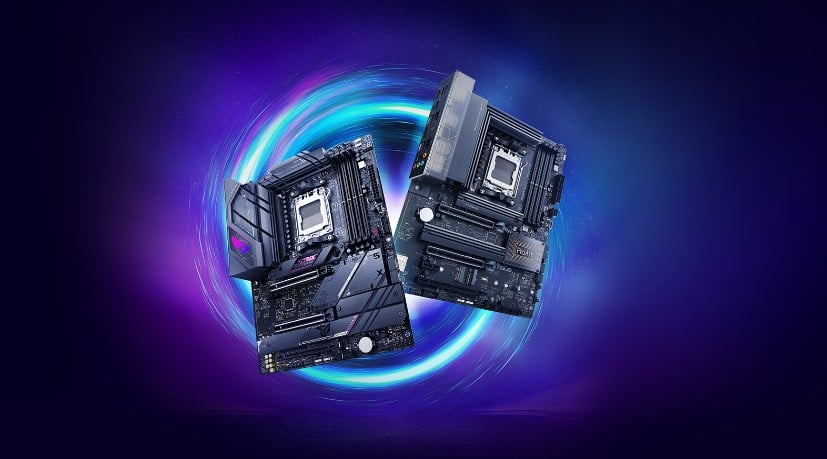 Asus recently unveiled a new range of platform-based motherboards AMD B650 and B650EDesigned to meet any PC assembling need, which includes expensive, sophisticated solutions for uncompromising gaming configurations, and cheaper variants best suited to different needs or smaller budgets.
Anyone who wants to bring a not-so-extreme gaming PC to life can count on the TUF Gaming family, which offers a wide choice between ATX or micro-ATX formats. There is also a space for professionals, graphic designers and video makers, who, thanks to the ProArt B650-Creator motherboard, will have full connectivity and at the same time a stylish and optimized component.
Completing the range is a wide range of ASUS Prime motherboards, which offer everything users need to build a solid, high-performance architecture, as well as every ROG Strix for those looking for uncompromising PC gaming solutions. Speaking of Asus motherboards, have you already read our Crosshair X670E Hero motherboard review? If not, we suggest following it again.
Among the general innovations that concern the entire new family of Asus B650E and B650 motherboards, one of the most significant changes is certainly the CPU socket, now of the LGA (Ground Network Array) type: AMD Socket AM5. Unlike previous AMD desktop platforms, The pins are now on the motherboardindustry Less likely for any accidental bending or damage to the contacts when installing the CPU. The new socket supports A TDP up to 170Wenabling exceptional processing performance for CPUs with a large number of cores in heavy workloads.
Then there is a file Support for modern DDR5 memoryAdditionally, B650E/B650 motherboards also feature PCIe 5.0 connectivity. Each option in the ASUS range includes at least one integrated PCIe 5.0 M.2 slot ready for the fastest storage drives on the market. The ASUS B650E motherboard is also the perfect solution for creating a PC capable of taking advantage of the next generation of PCIe 5.0 graphics: high-end models feature at least one PCIe 5.0 x16 slot. Featuring twice the baud rate of PCIe 4.0, the new standard provides the necessary bandwidth to enrich ASUS B650E/B650 motherboards with a full suite of high-speed ports. Each ROG Strix, TUF Gaming, and ProArt B650 motherboard is equipped with a high-speed USB 3.2 Gen 2×2 Type-C port.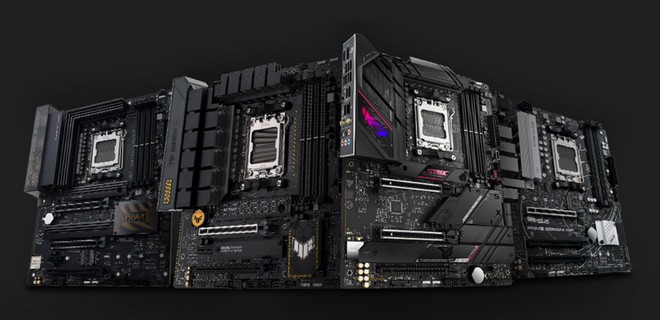 Going into the details of each category, ROG Strix . line ROG DNA takes high-end models and drops it into gaming motherboards suitable for every device, from fully-equipped ATX gaming setups to compact Mini-ITX configurations. Built-in I/O panels facilitate installation and are nice to admire from the side "windows" of each chassis. Advanced Voltage Regulatory Modules (VRMs) are ready to provide better support for AMD Ryzen 7000 Series processors, while Intel WiFi 6E and 2.5 Gb Ethernet provide advanced connectivity for high-end networking. ROG Strix models are especially ideal for stable and secure overclocking, as you only need to enter the UEFI BIOS to boost clocks on light loads via AMD Precision Boost Overdrive.
TUF Gaming motherboards It allows creating reliable settings with subtle aesthetics, but without reducing gaming performance. Available in ATX or micro-ATX form factors, these cards feature DDR5 support, a PCIe 5.0 M.2 slot for ultra-fast storage, and an onboard USB 3.2 Gen 2×2 USB Type-C port for fast, versatile connectivity. High-bandwidth 2.5Gbps Ethernet is built in as standard, while WiFi 6 ensures consistently fast connections. To complement and enrich the TUF Gaming motherboard with a series of components and peripherals with a consistent look, ASUS has developed the TUF Gaming Alliance, a collaboration with leading brands of PC components that helps ensure compatibility and interoperability among a wide range of components such as chassis, power supplies and solutions. Cool CPU, memory clusters, and more.
then there ProArt Cards, designed to deliver high performance to those who make the profession, but also to other classes of professionals such as engineers, designers, animators and game developers, who often all tend to have an intense workflow that goes to saturate the skills of a multi-core CPU. The Commission ProArt B650-Creator It carries on this tradition with a feature set that delivers incredible value to every build valued for the most creative, yet budget-conscious. DDR5 support takes advantage of the bandwidth of the latest high-end clusters, while the PCIe 5.0 M.2 slot lets you enjoy ultra-fast transfer speeds. Not only. ProArt B650-Creator also offers a dual PCIe 4.0 x16 slot capable of running in an x8 / x8 configuration to take full advantage of a pair of graphics cards. The ProArt B650-Creator includes a front-panel USB 3.2 Gen 2×2 Type-C connector with Quick Charge 4+ to easily and quickly charge any external device. ASUS has also integrated a USB 3.2 Gen 2 Type-C port on the rear I/O panel to offer an alternate mode of DisplayPort 1.4 output up to 8K/60Hz, ensuring the greatest flexibility in use, whether users want it. The port for 10Gbps file transfer, whether they need to connect an additional HD display.
Finally, we have the motherboards Asus Primewhich offers many of the most advanced features represent an excellent solution for architectures aimed at everyday work and productivity, and is thus ideal for making less expensive computers, perhaps with simpler, but not low-power designs.
The company offers four types of Prime motherboards based on the B650, with a choice of form factors ATX And the Micro ATX Express yourself to the fullest on your wireless network, without giving up performance on a high-speed wired network through a Realtek 2.5 Gbps Ethernet Controllerto which one is added PCIe 5.0 M.2 . slot And support for DDR5. Prime B650 cards also facilitate firmware updates, since BIOS FlashBack You can easily proceed with just a power supply and a USB flash drive.
And in conclusion, let's see in detail the four models of the ROG Strix line, the most interesting from a gaming perspective.
ROG STRIX
ROG Strix B650E-E Gaming Wi-Fi
This is the motherboard and is in fact one of the best solutions on the market for any builder looking to take the AMD platform to its limits. In addition, this card is complemented by an exceptional set of features. Provides an optimized power solution with 16 + 2 grouped power phases and 8 + 8 ProCool power connectors to users Better Overclocking AMD Ryzen 7000 Series Processors.
We find two PCIe 5.0 x16 slots, ideal for hosting the next generation of add-on cards. Four built-in M.2 slots, two of which are PCIe 5.0-ready, make it easy to install a storage assembly to help cool each M.2 slot with a high-performance heatsink. There is no shortage of VRM heatsinks with highly conductive heat pads, which can use the cooling air passing through the case to keep circuits in completely comfortable operating conditions.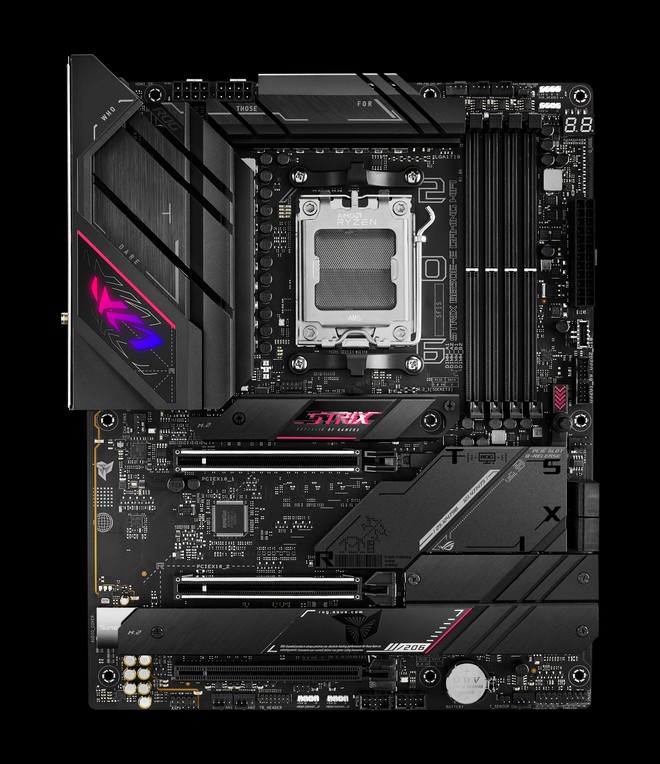 The ROG Strix B650E-E Gaming WiFi motherboard makes it easy to put together, as we find A dedicated and convenient Q-Release button in the PCIe slot makes it easy to release the graphics card PCIe 5.0 x16 core slot. Thanks to the ASUS M.2 Q-Latch, losing screws will be just a memory away.
Also of note is BIOS FlashBack support, which features a new setting that allows users to flash the card's firmware without anything more than a power supply and a USB flash drive. We then move on to connectivity which is by definition a small premium, since it includes 19 USB ports, DisplayPort 1.4, HDMI 2.1, and a Thunderbolt 4 connector.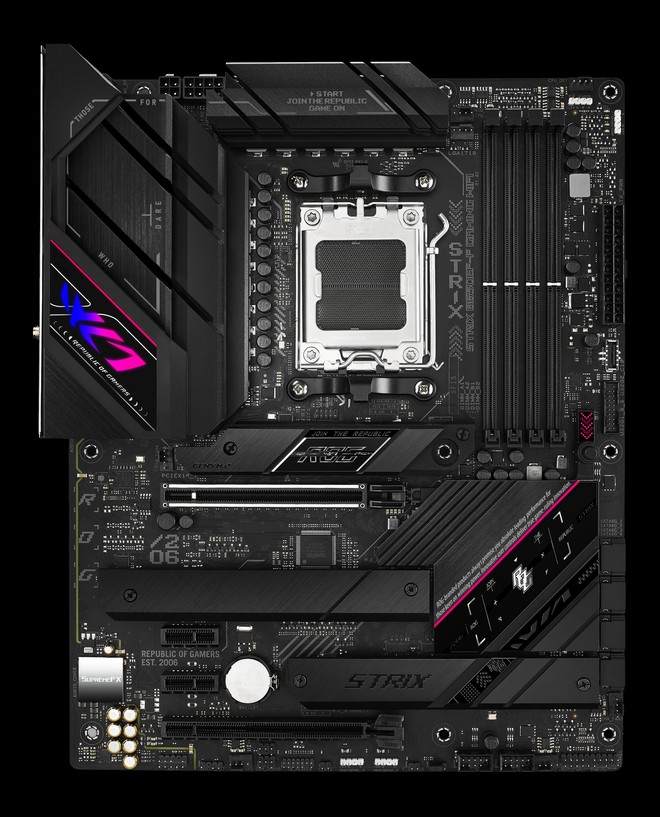 ROG Strix B650E-F Gaming Wi-Fi
If we are looking for pleasant aesthetics and a rich set of functions, then the ideal solution is ROG Strix B650E-E Gaming WiFi, which in many ways is similar to its big sister, but on the contrary.1 PCIe 5.0 x16 slot and 1 new generation PCIe 5.0 M.2 driveJust enough for most game builds.
However, even in this case you will be able to count on a very rich and similar set of features: the same smooth black color adorns the voltage regulators and huge heatsinks; Aura Sync RGB LED accents deliver a bold pop of color; The invocation design features and functions are also quite similar, which makes it easy to do it yourself.
ROG Strix B650E-I Gaming Wi-Fi
For those who have less space but don't want to waste power, you can count on Mini-ITX solutions. In this regard, we can present the ROG Strix B650E-I Gaming WiFi, the new and compact ASUS card. It can fit in the palm of your hand easilywhile still offering a full suite of cutting edge gaming features.
With the B650E platform, it integrates both PCIe 5.0 x16 and PCIe 5.0 M.2, making it ready for the faster graphics cards of today and tomorrow. A choice of advanced and versatile connectivity, including a USB 3.2 Gen 2 port with DisplayPort Alt mode. This board integrates a convenient pre-assembled I/O board, which also simplifies the assembly process, especially with the limited space allowed for a Mini-ITX case.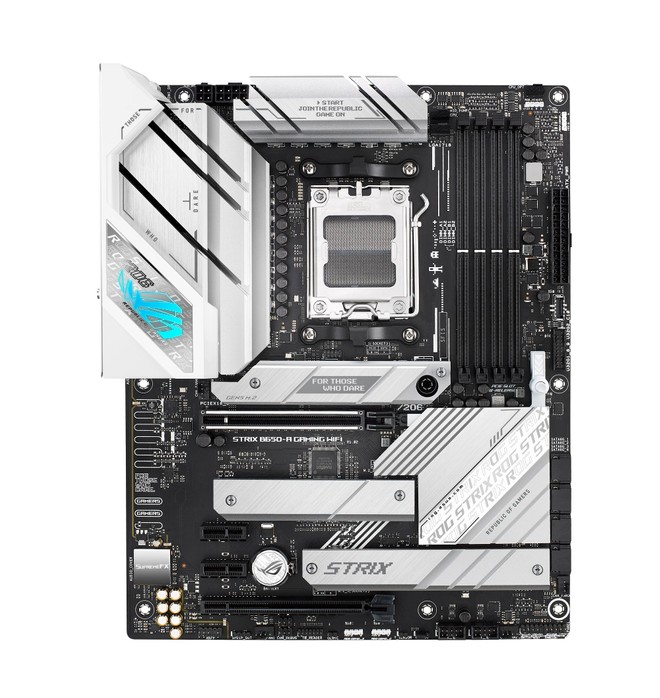 ROG Strix B650-A Gaming Wi-Fi
Game design for those who love the white theme, able to focus and amplify RGB LED lighting and give a clean and fun look. For those planning their next white machine, ASUS offers ROG Strix B650-A Gaming WiFi.
As with all ASUS B650E/B650 motherboards, ROG Strix B650-A Gaming WiFi features a built-in PCIe 5.0 M.2 slot and DDR5 support. If the PCIe 5.0 x16 slot creates greater appeal among gaming users who aim to equip the latest generation of video cards in their build, then this motherboard can attract the interest of a wide audience given that the PCIe 4.0 x16 slot is large. Experience gaming with today's high-end graphics cards.
Availability and pricing
ASUS B650E / B650 series motherboards are already partially available in the ASUS eShop and are on sale in ASUS Gold stores, but in the coming weeks they should arrive in all the configurations described above. Prices start from 240.00 EUR For models like ASUS TUF GAMING B650-PLUS WIFI, up At €445 for the ROG STRIX B650E-F Gaming Wi-Fi And the 510 EUR for PROART X670E-CREATOR WIFI.
More details and purchase link on the official page (at SOURCE).