News
3rd Generation Amazon Fire TV Cube Review: New Life for TVs

Today we are talking about 3rd Generation Amazon Fire TV Cube, certainly less known than the popular Fre TV Stick but interesting and ideal for many users. which is called decoding Capable of managing 4K broadcasts and much more, Perfect for slow TV refresh And it's not very modern but also useful for better integrating your screen with your Alexa-compatible smart home.
In short, a All in one product Exploitable in many different ways, thanks to the numerous expansion possibilities and versatility offered by the multiple supported AV codecs, let's find out more.
index
What is its purpose?
Well, for many of you, this paragraph will be quite trivial, but reading some of the questions within the Previous Generations product sheet, I realized that maybe it would be a good idea to put some guidelines in place before getting into the details of the 3rd generation Fire TV Cube.
It doesn't have the shape of a stick like Google's Fire TV Sticks or Chromecasts, but it's basically the same in a vitamin form factor: more power, more connectivity capabilities and an integrated speaker to give voice to Alexa that can therefore respond to our requests.
It must be connected to the HDMI port of the TV or monitor, then select the corresponding HDMI source we will be able to accessVery complete smart interface Fully integrated with many streaming platforms and more. Then thanks to the HDMI CEC functionality, we can almost forget about the TV remote and do everything with the Fire TV Cube's built-in controller, turn on the TV and maybe even the connected audio system, or why not, even the game console.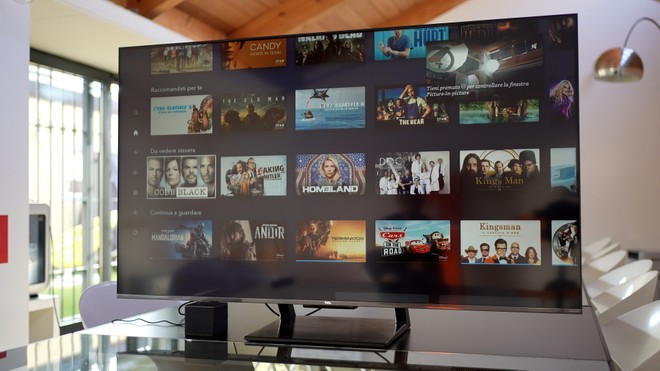 In fact it is Bypass the TV operating system by turning it into something faster for sureComplete and updated. The fact that it is made by Amazon brings some advantages to smart home management thanks to Alexa. For example, we can display video from a security camera or smart intercom in a picture in a picture, or voice request to play our favorite TV series, or simply any request you make to smart speakers: information, actions, jokes, music playback and much more.
Compared to the switch, here we have a speaker, an HDMI input port, an output for connecting an IR antenna to control third-party products with the remote control, even if they are hidden inside a cabinet, and an Ethernet port to connect the device directly to the network and exploit Stability, and then a more powerful device that makes the system run at a tremendous speed.
Form factor and packaging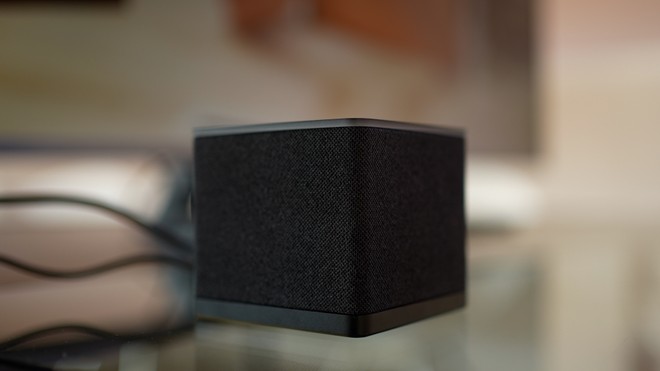 The Fire TV Cube is a cube of 86 x 86 x 77 mm, all the connection ports are on the back, and on the vertical sides is the typical dark gray fabric of Amazon devices, which is very elegant compared to the previous generation which was a bit "plastic". Under the base there is clever rubber so it does not damage surfaces and ensures stability. Above are 4 switches: Alexa, microphone on/off, volume + and volume – below a blue LED ring that comes alive when the assistant is activated.
Speaking of ports, we have an HDMI 2.1 ARC HDCP 2.3 output and an HDMI 2.1 input, full-size USB 2.0, an IR extender, and 10/100Mbps Ethernet.
In the package you will find the power supply and 2 AAA batteries for the remote control. About the remote, we find that included in the latest generation Fire TV Stick 4K (pictured above), there are no programmable keys for the latest version (Alexa Pro) which was introduced with the Cube.
The remote has an IR port, and it can be programmed to control other devices as well, but unfortunately, we no longer find an IR extender antenna in the package.
data sheet
CPU: Amlogic POP1-G (Amlogic – AML Popcorn)

4 ARM Cortex A73 2.2 GHz + 4 ARM Cortex A53 2.0 GHz

GPU: ARM G52 MP8, 800MHz

memory:

2GB LPPDDR4X RAM

Storage: 16 GB

Loudspeaker: Integrated 11 watts

door: HDMI 2.1 input, HDMI 2.1 output, IR extender, 10/100Mbps Ethernet

links:

WiFi 6e (2×2 MIMO)

Bluetooth 5.0, BLE

My voice:

Dolby MAT transcoding (HDMI streaming and input)

Input Dolby MAT

AC3 (DD and DD+)

MPEG-H (Passage)

AAC (up to 8 channels)

MPEG-4 HE AAC (up to 8 channels)

MPEG-4 HE AACv2 (up to 8 channels)

AAC ELD (up to 8 channels)

xHE-AAC (up to 8 channels)

FLAC

MIDI (Type 0 and Type 1)

MP3 (up to 48 kHz)

Forbes (.ogg, .mkv)

PCM/Wave (6 channels, up to 96 kHz)

AMR-NB

Authoring (up to 8 channels)

video

Dolby Vision

H.265 (HEVC) 2160p at 60fps

H.264 1080p (60 fps)

AV1 (2160p at 60fps

VP9 (2160p at 60fps)

MPEG-2

MPG-4

HDR 10+

HDR10

HLG
Audio and video codec test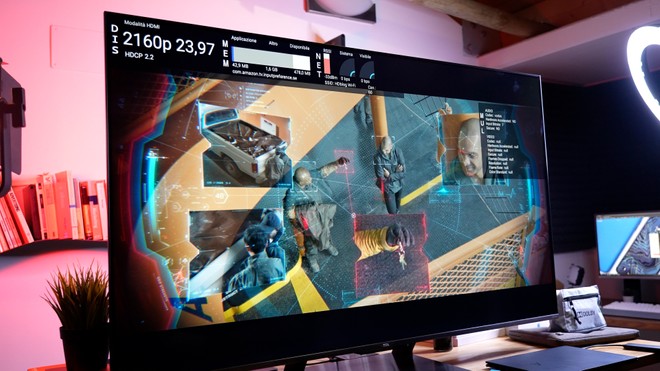 We've verified the performance of the 3rd generation Fire TV Cube in multiple contexts of use, particularly when playing content through the HDMI input port, USB port, and streaming.
HDMI input
This new port is interesting, which was not present in the previous generation: it basically gives you the ability to control external devices by selecting the source directly from the Fire TV interface, without having to use the TV remote control. It's actually an extra input that makes up for the HDMI port you'll be running on the TV by connecting the CUBE.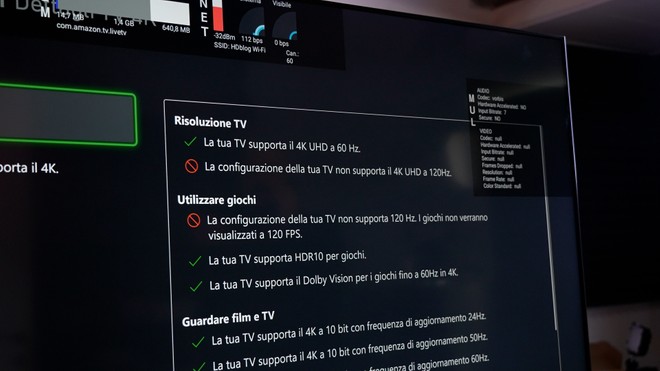 The specs talk about HDMI 2.1, but you'll need to know this Does not support VRR and 120fps. So if you want to connect the latest generation console, this is not a good solution. On the contrary, we checked the process with a External media player and it was coolespecially with regard to "correct" traffic for both audio and video.
For those situations where you have an excellent panel and performance hardware on the set-top box, the Fire TV Cube is really the only one that guarantees you a near-complete pass. Almost because DTS audio isn't transmitted anyway.
Positive is the fact that by enabling passthrough, frame rate matching is also respected, which instead does not happen with streaming and the built-in media player except for Prime Video.
If you do not activate the passthrough, the decryption will take place without problems and without any hitches even for large files. It is worth noting that there is no DTS Audio support, while Dolby Atmos is read correctly.
USB
All compatible formats are read without problems from the USB port, the frame rate corresponding to the built-in player is not respected, while using Nova Player it is possible to bypass this problem.
HDR 10+ files with correct reading of dynamic metadata also work well. Speaking of multimedia content on the network, it is possible to use applications such as Plex that did not show certain doubts or limitations, just like other Amazon HDMI devices.
flow
While streaming, the behavior is basically the same as that of the Fire TV Stick 4K Max, and there is no particular problem if not a lack of due to the individual apps than the Cube. For example in Disney Plus there is no rhythm synchronization and Dolby Atmos tracks are not read; On Netflix, on the other hand, Dolby Atmos works but not frame rate matching; Prime video is the best supported platform, basically everything works.
In regards to Prime Video, there is a note regarding live streaming of games that always read at 25 frames per second instead of 60 as it should be, just as it does with the Fire TV Stick 4K Max.
Smart Party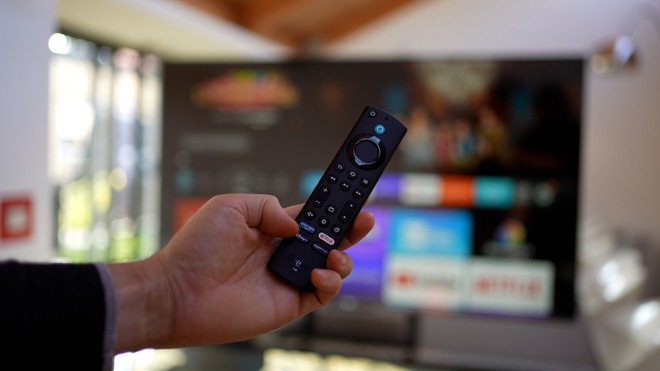 There are no significant updates on this front compared to the previous generation, the Cube does not act like a true smart speaker in the sense that it can not only play music, but is used to give voice to Alexa. Convenience is being able to give voice commands to the TV, even without having to activate the function from the remote control.
So there are all the usual Alexa functions that you can ask for anything from smart home control to weather information etc. At this point, the TV will almost certainly become a huge EchoShow and will be able to show a stream of security cameras or an intercom, in addition to being able to do this also in Picture in picture modewithout forcing yourself to give up what you've been watching.
Conclusion and price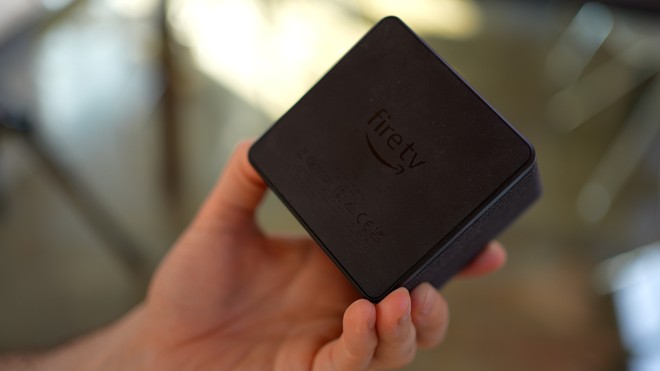 Fire TV Cube is Available from today on Amazon.it for €159. Compared to the previous generation, connectivity, power, and versatility are improved thanks to a second HDMI-in port on the back. On the other hand, the characteristics of a real decoder do not change, it is excellent at 360 degrees for playing multimedia files even in high quality.
Of course the price difference with the excellent Fire TV Stick 4K Max is significant and for several contexts of gratuitous use; However, the Cube is more complete and versatile, it gives you an HDMI port and adds voice commands without having to use the remote control.
Among the accidental sins, on the other hand, certainly the limited Ethernet port screaming for revenge in the Gigabit era, is also a shame for the lack of a richer package, which also loses the IR extender.
video